Home > News From Centro de la Raza, May Day March for Immigrant and Workers Rights
News From Centro de la Raza,
May Day March for Immigrant and Workers Rights
The 2012 May Day March for Immigrant and Workers Rights was on May 1st. The event was organized by El Comite Pro-Reforma Migratoria y Justicia Social and the May 1st Coalition which El Centro de la Raza participated in. The march began at Judkins Park and stood for justice by joining in solidarity with the many immigrants and workers whose rights are often repressed.

This year, El Centro de Raza marched for the end of the Secure Communities Program that was recently implemented by King County. The Secure Communities Program (SComm) is a Department of Homeland Security program designed to "identify immigrants in U.S. jails who are deportable under immigration law…participating jails submit arrestees' fingerprints not only to criminal databases, but to immigration databases as well, allowing ICE access to information on individuals held in jails."¹

Click here to sign an email petition to end Secure Communities in King County.

State and local officials have criticized the complete disconnect between SComm's stated target – serious convicted criminals – and ICE's own data, which show's that the vast majority of people deported through SComm have no, or very minor, criminal convictions.

We marched to put an end to the Secure Communities Program in King County. The rally and march were well attended with thousands of people joining together in solidarity.

Siempre bienvenidos, nuestra casa es su casa.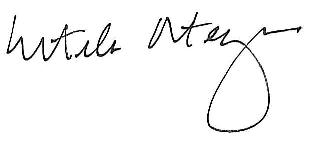 Estela Ortega
Executive Director

P.S. - And of course, visit our website to stay up-to-date on the happenings at El Centro and in nuestra comunidad - our community.
NWIRP and ACLU File Lawsuit
Against Border Patrol
Three residents of the Olympic Peninsula filed a class-action lawsuit on April 26th challenging the U.S. Border Patrol's practice of stopping vehicles and interrogating occupants without legal justification. Filed in U.S. District Court in Seattle, the lawsuit says that the Border Patrol's suspicionless stops on the Peninsula violate constitutional rights, and it seeks a court injunction barring such unlawful stops in the future. Northwest Immigrant Rights Project (NWIRP) and the ACLU of Washington are representing the residents and will seek class-action status for the suit.¹

"People are being stopped based solely on their appearance and ethnicity. This is unlawful and contrary to American values. No one in a car should be stopped and interrogated by government agents unless the law enforcement officer has a legal basis to do so," said Matt Adams, legal director of NWIRP.

"The Border Patrol's actions have created a climate of fear and anxiety for many people living on the Olympic Peninsula. The residents in this suit all are U.S. citizens who worry that they could be stopped and questioned without reason any time they drive or are passengers in cars. We're asking the court to put in place safeguards to stop the Border Patrol's unlawful and unfair practices," said Sarah Dunne, legal director of ACLU.

The lawsuit seeks a declaration that the Border Patrol's suspicionless stops violate the Fourth Amendment and exceed the agency's legal powers. The suit seeks to prohibit Border Patrol agents from stopping vehicles without reasonable suspicion that an occupant has entered the U.S. without approval.

The plaintiffs have experienced unwarranted stops and interrogations in a variety of settings, all while going about their daily lives. Agents provided flimsy pretexts or no reason at all for the stops. Some stops appear to be based on nothing but the Border Patrol agents' perception of the plaintiffs' ethnicity or the color of their skin.

To read the full press release, which details the three individuals' experiences, click here. And/or read the official complaint filed in court here.
El Centro de la Raza Tax Prep Site
| | |
| --- | --- |
| 2012 total # of returns | 2011 total # of returns |
| 604 | 582 |
| 2012 total refunds | 2011 total refunds |
| $1,028,415 | $868,129 |
What to plant now? Inside, outside, and under cover
Crop rotation
Planting and spacing
Vegetable specifics
Containers and small space
Weeding and slugs
Water smarts
Pest management
"We wish to thank you for your help with the homeownership foreclosure process. We think it was done so well starting with the orientation session and then the one-on-one counseling meeting. I appreciated so much you pouring through those stacks of documents, and I say this because I tried it here at home and didn't get anywhere. As the customer, or client, we like to be treated fairly and with respect and we appreciate your kindness and patience. I thought that was a heavy load, and again, you handled it so well, with expertise and professionalism."
---